2020 hat gerade erst angefangen - auch wenn es sich manchmal anders anfühlt. Wir haben diese ersten Wochen genutzt und uns einmal umgeguckt: Was gibt es alles Neues am SEO Himmel und was solltest du davon auf dem Schirm haben.
Eine kleine Warnung am Anfang: Du musst diese Trends nicht morgen erfüllen. Es sind Neuerungen für SEO bei denen sich noch herausstellen muss, wie gut sie von den Usern angenommen werden. Vielleicht wird was draus. Vielleicht auch nicht. Aber spannend sind diese Trends auf jeden Fall.
Unser Kollege Arun hatte auf jeden Fall eine Menge Spaß sich durch die SEO Trends zu wühlen und hat seine Favoriten rausgesucht. Der Blog-Artikel ist auf englisch, aber das ist doch kein Problem, oder? 🤓
What are the future trends for SEO in 2020?
We are into the second month of a new year. During these few weeks, we took a step back to search for the trends in 2020, -if not for the decade. 2019 was a great year for SEO as it enhanced the use of Google Search Console (formerly Webmaster Tools) and Structured Data to provide us with enriched search results.
To summarise, here's a quick roundup from Google of the top events that made news the past year and which also made it to the most searched queries on Google.
Focusing on the year 2020, which we are just into a month old — On the matters related to Search Engines, there is a lot to expect. With leading tech companies developing AI solutions and voice-activated search assistants to cater to the user's demands, it is safe to say that SEO is an ever-changing industry with no specific formula and with the frequent unannounced algorithm updates it has become quite a task to rank well in Search Engine Results Page(SERP).
Well, as you may have read it in the top banner image, the Future is bright and we will be exploiting a better SEO experience in this forthcoming year.
According to the article featured in SEJournal about defining the psychology of SEO, it is clear that the future holds in value-driven awareness.
Being said that, let us explore some of the trends that may become popular this year.
Structured Data
In 2011, major search engines such as Google, Yahoo, Bing, and Yandex had decided to collaborate to create schema.org to understand the content of the web better. The purpose of this collaboration was to assign meaning about a website to its users and understand how people interact with information.
Now, there has been a discussion about the nomenclature of Structure Data vs Schema Markup. Well, structured data is actually the same as Schema Markup, as Google coined in its terms.
According to Google,
Structured data is a standardized format for providing information about a page and classifying the page content; for example, on a recipe page, what are the ingredients, the cooking time and temperature, the calories, and so on.
Structured data uses schema.org to define information on a page to show up when a person searches about it and it may show up on the search results depending on the relevancy between the searched term and the content on the website.
For example, consider the image below showing the search result of the query 'events near me'. The red ovals mark the events which are marked to show up on the current date when this query was searched and the corresponding dates as well. This was done mainly by the 'Event' data type structured data markup.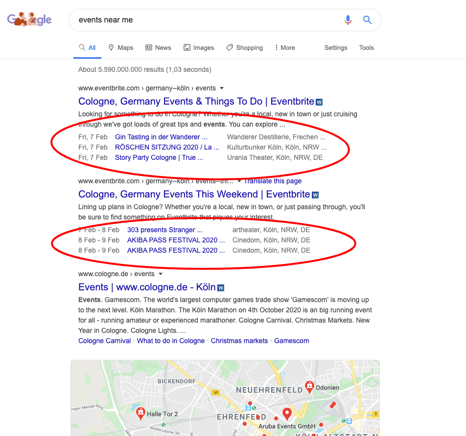 You can view the different data types supported for the Structured Data on the Search Gallery in Google Developers as shown below if you don't know what kind of schema or structured data you would want to markup on your website.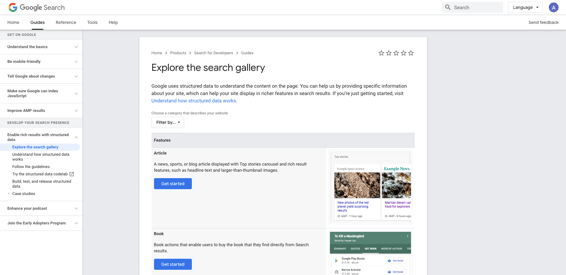 Schema.org is a vocabulary that describes the things that have a meaning in 800+different definitions(called 'classes'), each with 20+ properties to define them. The more detailed information can be found at the official Schema.org documentation.
To summarise, imagine marking up each information differently on your website such as Postal Address, Website details and if you wish to improve your local search and SEO you could mark it under Local Business which along with Google My Business improves your visibility and reach in your local circle.
It should be noted that there are several markup languages that schema.org uses and Google recommends JSON-LN as they state,
Google can read JSON-LD data when it is dynamically injected into the page's contents, such as by JavaScript code or embedded widgets in your content management system.
To take it to the next level, you could use generators to develop the schema code in HTML (if you don't want to waste time coding manually) and paste it to your website.
Some of the best schema generators are:
Schema Generator Tool by Markele
Schema Generator by Python Anywhere
and verify it using the Structured Data Testing Tool and also using Rich Results Test.
FAQ Rich Snippets
A FAQ or Frequently Asked Questions contains a list of questions and answers related to a particular topic.
An FAQ Rich snippet is displayed when a page is 'markup-ed' with a structured markup schema to display a rich result in Google when the questions corresponding to the FAQ are asked.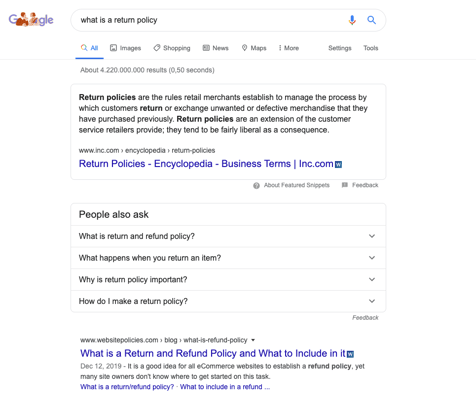 With a properly marked FAQ markup, your site could feature as a rich snippet in the search results page providing you with a good portion of the SERP estate providing better visibility and SEO for your website. This is ideal if you want to reach the right users.
Learn more about Google FAQ rich snippets and implementing them on your website to reach the apt user group you wish.
Also, it would be a great idea to check the FAQ report in Google Search Console.
Voice Search
Voice Search uses the power of speech recognition to search the web. In voice assistant devices such as Amazon Alexa, Google Assistant, and Apple Siri — Instead of typing, we use voice input to quickly and easily search for the things you care about.
Juniper Research predicts that voice search estimated that by the end of 2018, 2.5 billion digital voice assistants were in use and that number could rise to 8 billion in 2023.
Well, the impact of voice search on SEO is quite significant. The voice search algorithm is well adapted to follow everyday language as you would talk to a human. Several improvements and updates are being made to improve the understanding of the voice query and hence enhance the user experience.
In SEO, this would be a boost for long-tail keywords as an average voice search answer is 29 words in length, according to Backlinko. Users who search long-tail keywords are in the consideration stage and are more likely to convert than someone in the awareness stage. Moreover, bullet lists increase your chances of ranking for voice queries, and most voice queries are local.
To start Optimizing for voice search, take a look at Voice Search Optimization by SEMRush.
Progressive Web Apps (PWAs)
Progressive Web Apps are websites that simulate the feel and functionality of an app.
The contents in the PWAs can be indexed and therefore rank in Search Engines. Data markup frameworks such as Schema.org, OG or Twitter Cards can be included in the PWAs. PWAs are built for mobile-ready experiences that serve as on the ranking factors for Google.
PWAs come with great UX i.e. User experience(s) such as Easy Navigation, prompt push notifications. cross-browser compatibility, responsive pages across all devices and hence increase the click-through-rate (CTR) which influences the search position on Google. No update for either content or the platform needs to be made by the user when compared to apps. Also, faster loading times can give rise to better experiences.
To illustrate how great PWAs are, we have some great examples.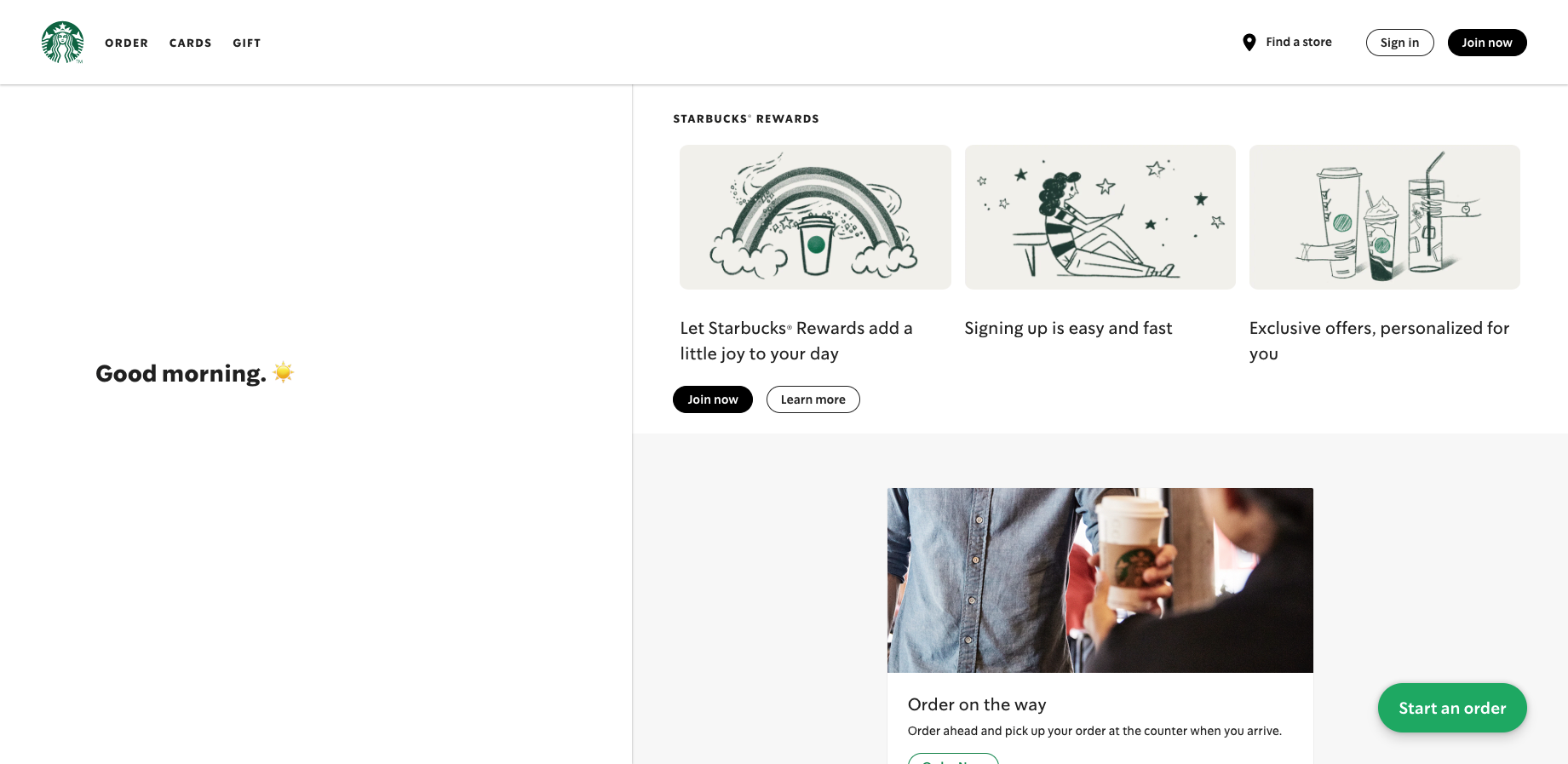 Starbucks wanted a platform that would cater to the combination of both emerging and established markets. Starbucks used content-specific animations, that would provide feedback to the user and help the content feel alive. Similar animations are common in native apps, but a luxury in web apps. The page weight compared to the official app size was may smaller and easier to load in areas having unreliable internet connectivity.
To get a clearer picture of how and why Starbucks achieved this feat is explained in detail in the case study of Starbucks PWA on Formidable.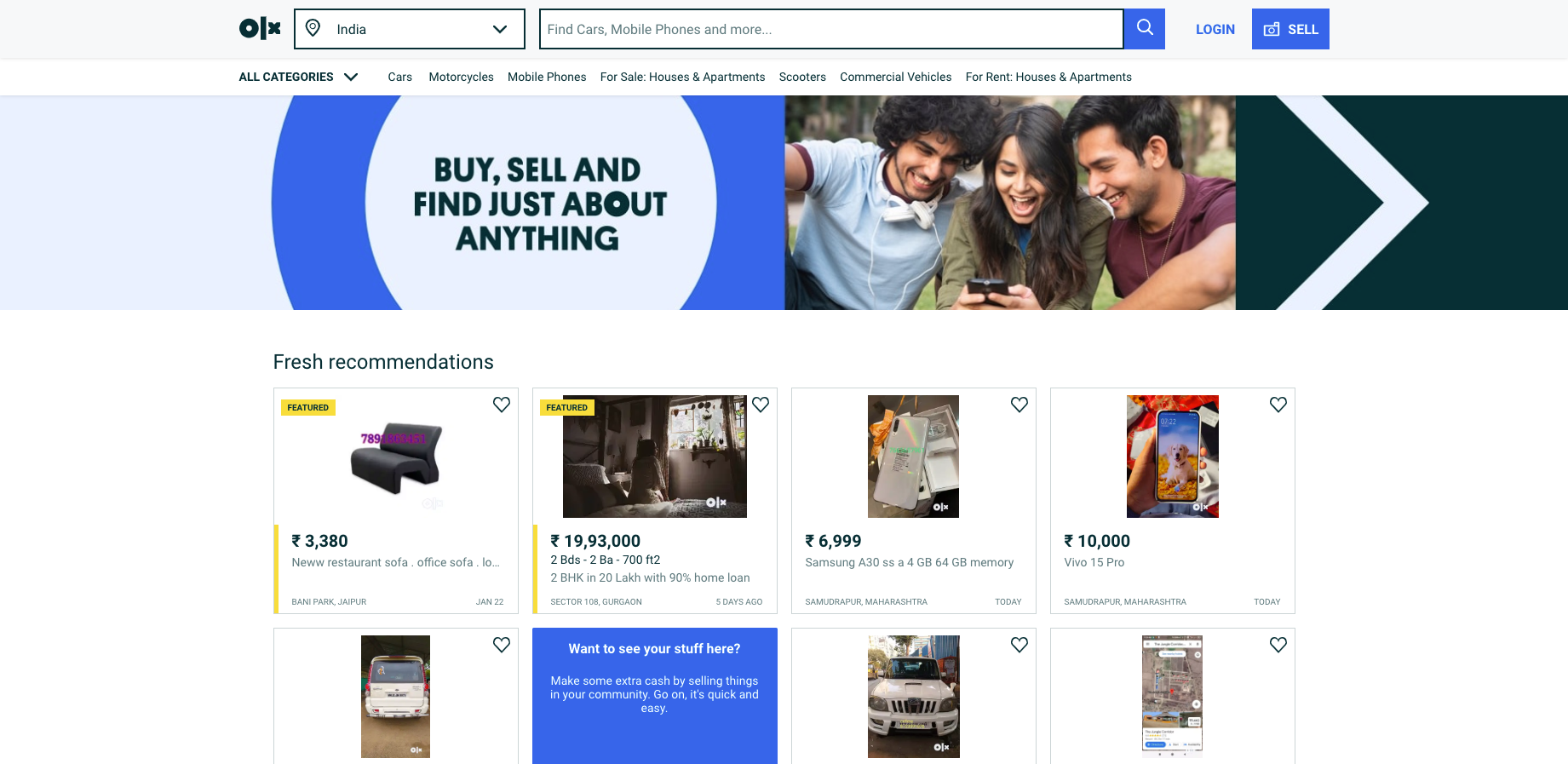 OLX, one of the biggest destinations in India for online classified ads, utilized PWA to bring them more visitors, fewer bounce rates and indeed more engagement.

More about this on the case study about OLA Progressive Web App.

. . .

Well, both cases prove that if you have a great service and wish to target users who use the web rather than an app because of the complexity and hassle in downloading in it, then Progressive Web Apps is highly recommended for you.

You can view the Beginners Guide to Progressive Web Apps from Smashing Magazine and Progressive Web Apps by Google Developers to get started ASAP!
In conclusion, with the development of technology and more importantly with the updates of the Search Algorithm it would be interesting to see what people see when they search for relevant information and how much can the search engines understand the queries and what way would they present the results. Moreover, 2020 looks to be a promising year both for users and marketers alike.